DIY – Build your own Fireplace
A built in fireplace is the perfect natural winter warmer for your house. This months DIY insert is preparing yourself for the upcoming winter months.

Download Fireplace Leaflet
DIY – Build your own Braai
Every September is National Braai month, but that doesn't mean that you can't recreate and Celebrate National Braai day, every day

Download Braai Leaflet
News
Extra Service offered to you:
Did you know our teams at each branch provide a quantity estimation for your building project? This personal attention and advice on all aspects of your building projects sets us apart. Contact us now to make your next building project that much easier.
We now stock PPC Surebuild 42.5 Cement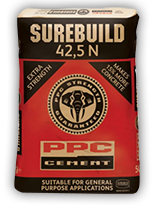 Brick 'n Tile have partnered up with PPC and now have the best quality cement available to you at our branches.
Inquire at our branches for the Launch special.
The "Real" advantages of building with Face Bricks
Did you know that overall brickwork for majority of residential homes built today, contributes less that 7% to the overall building project costs?
There is a misconception that choosing Face brick is more expensive due to it only being a visible component to the house and thus many people believe that choosing a face brick is an expensive outlay. But if you consider that once the plaster and paint component is added to the building process as well as the long term maintenance cost of repainting and plastering to the life of the building, choosing a face brick is a long term cost winner.
Our teams at branch level provide a quantity estimation as well as an estimated cost structure for your building project. We provide personal attention and advice on all aspects of your building projects. We also offer a complete brick matching service, when you are unsure of which type of brick you would need and we would use our extensive knowledge to match up your product to what is currently available at the factory.
Build on our Service is more than just a slogan for us.
sell diamonds